September Homebuyer Class Grads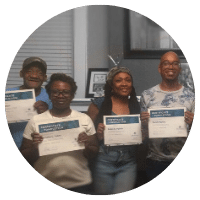 "These classes were very informative and gave me confidence and motivation to buy our first home."
"Class was extremely beneficial... would recommend to anyone."
"I really enjoyed the presentations and the presenters. [Everyone] was very knowledgeable. I learned so much, thank you!!"
"Outstanding knowledge. Resourceful, [informative], excellent speakers: lender, realtor, etc."
"I really enjoyed the class. It was very helpful."