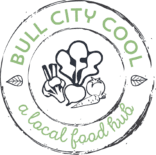 Our Bull City Cool Food Hub is located in Durham, NC, known as Bull City. The hub was both a community development project and an entrepreneurial venture that celebrated its grand opening in September 2015.
Today Bull City Cool is a shared cool, cold and dry storage warehouse — as well as office space — where nonprofits and for-profits aggregate and distribute local farmers' fresh food. Our goal is to strengthen Durham's local food ecosystem by providing space and connections that benefit local farmers, food businesses and hunger-relief nonprofits.
Download our brochure or visit our blog to learn more about how we support local farmers, build partnerships, and promote social justice.
Federal funds for this project were awarded under the Local Food Promotion Program of the Agricultural Marketing Service, U.S. Department of Agriculture.