Nathan Graham & Bonita Forbes-Graham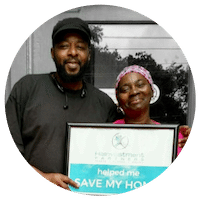 My housing counselor was very patient. She explained the process to me in a way I could understand. I'm so grateful for your service!"
"Mrs. Coleman gave us everything we needed and more to get our assistance."
Nathan and Bonita were approved for NC Foreclosure Prevention Funds after both suffering hardships in 2016. Nathan was laid off, Bonita was diagnosed with cancer and had to leave work. NCFPF funds will help to pay their mortgage while the couple searches for work.