Margaret Stanley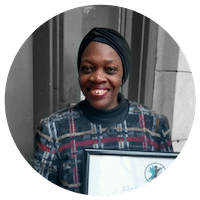 Margaret came to us after medical issues forced her to take an early retirement. We helped her apply for the NC Foreclosure Prevention Fund, and she was approved for PRRLE funds that reduced her mortgage by 40%.
"I was referred to Reinvestment Partners by the NC Housing [Finance] Agency. My housing counselor was very professional and handled my situation, answered all my concerns, with absolute integrity and honesty. [She] gave me all the information I needed to make an informed decision and proceeded to work with her... to resolve my situation.
Without reservation, no favors or fear, I unequivocally recommend this agency to any citizen of North Carolina who finds themselves falling between the cracks, to seek them out and find out if they can be of any assistance to you.
In my case, I did not even know that this type of assistance even existed, and I have been very pleasantly surprised. It has saved my home and secured me and my son to [move] forward to a brighter future. Nothing is more important than having a place to call home. Many, many thanks and God Bless this agency and the NC Housing Finance [Agency] for giving me relief." - Margaret Stanley