Alphonso Covington III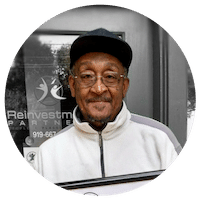 Last June, Alphonso found himself in a hard situation. His car suddenly needed expensive repairs. As a taxi driver, he depends on his vehicle for income. Unfortunately, he couldn't afford his to pay his mortgage and he missed a payment. Alphonso tried to pay his mortgage late, but his servicer wouldn't accept the money.
Luckily, Alphonso came to Reinvestment Partners and spoke with a housing counselor. He qualified for assistance from the NC Foreclosure Prevention Fund, which saved his home!